Office Refurbishment Checklist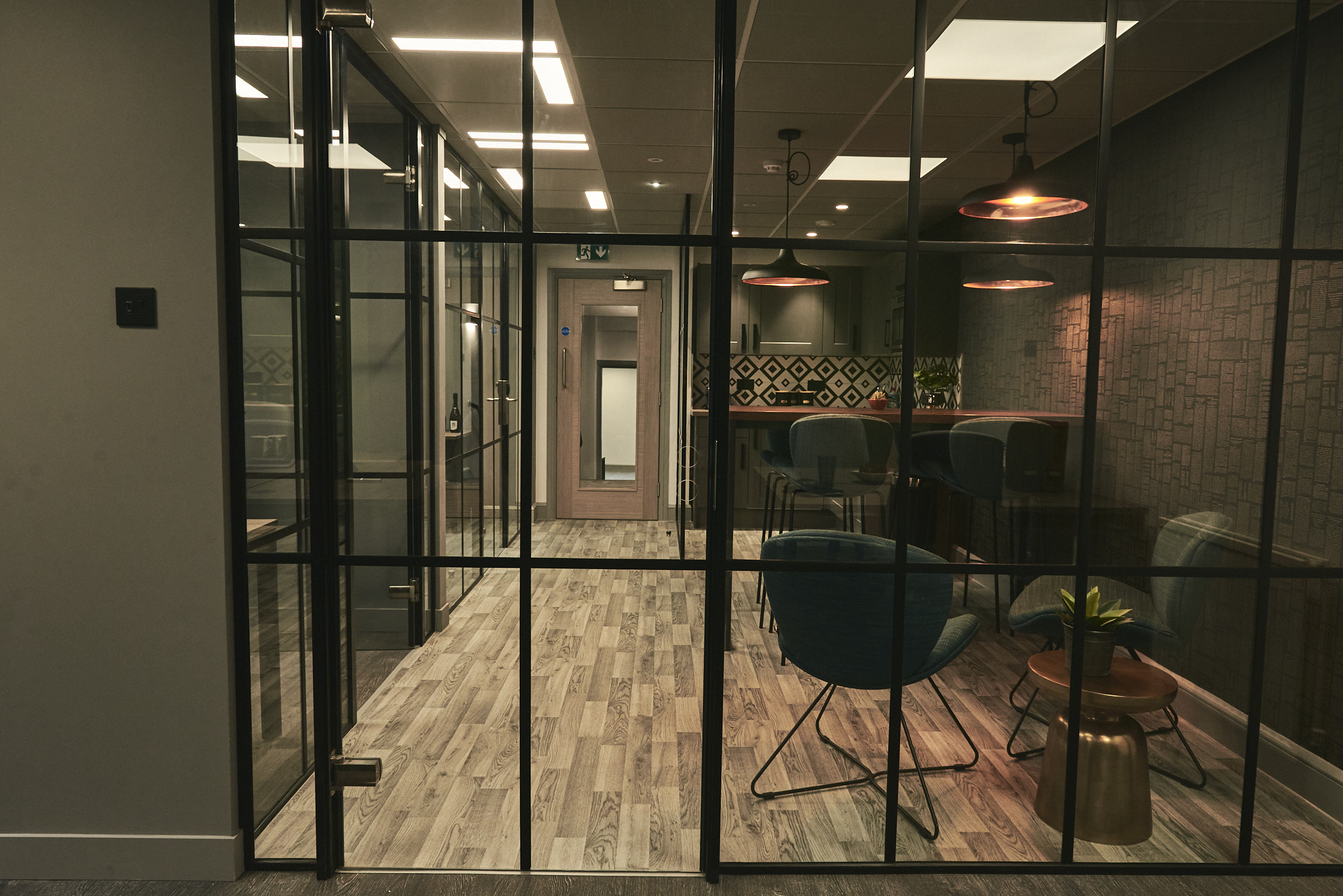 Read our office refurbishment checklist from the experts at Meridian Interiors.
Investing in your workspace is a positive way to update working practices within your organisation, boost staff morale and express your company's brand. This guide walks you through the path involved in the office fit-out and refurbishment process, so you are well informed for your next office refit.
The Office Refurbishment Process
Deciding when to carry out an office refurb is a good place to start because it is a very involved process, so you need to have the time and dedication to commit to it. Utilising the skills of your own staff (IT, Facilities Management, Office Managers), coupled with an experienced office refurbishment and fit-out company, like Meridian Interiors can help the process run smoothly, ensuring important elements are not missed.
Stages of Office Refurbishment
There are a series of stages to work through to design, plan and implement a new office refurbishment. Even though the size, scale and cost can vary dramatically between projects, the process remains very similar.
Consultation
When you decide to carry out an office refurb, the first stage is referred to as the consultation stage. It is at this stage that initial conversations are had to establish what the goals are for the build, and how that will influence the design and planning stage.
At Meridian Interiors we focus on four fundamental concepts: Listening, Understanding, Creating and Delivering.
During the 'Consultation phase', office refurbishment companies will strive to take your vision and turn it into a reality. A workplace evaluation is paramount at this stage, where key people from your organisation set out the project parameters and review your main project objectives. Whether it be owners, managers of SMEs, facilities managers, maintenance teams, IT, finance, sales and marketing or operations managers, this is the first key step to 'listening'​ to your needs.
Design and development
Following the consultation and having defined your needs, the design and development of the project will need to be established using the framework below:
Headline Project Objectives
Team synergy in your organisation
Employee Habits & Wellbeing
Your Brand Themes
How the current space is utilised & performs
Requirements for expansion/future proofing
Analysis of these factors can then be used to determine what options and solutions your company can use to create the best possible working environment for stakeholders.
Planning
During the planning phase, it is important to understand how the budget can be used to achieve the desired result.
As planning a project is very involved, using both 2D and 3D drawings, can help shape the interior refurbishment and ensure all parties are on the same wavelength, after all a picture speaks a thousand words!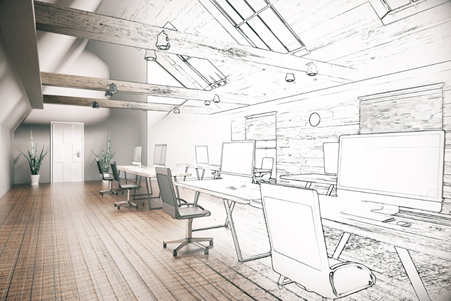 Build
Once the design and plans have been agreed, 'creating' and 'delivering' are the next steps.
Have a programme of works in place with your chosen office refurbishment company will help the project to stay on track. Regular meetings between stakeholders are important to ensure the project is built accordingly to plans and change management can be implemented, where necessary.
The final project needs to run according to the planned budget and therefore having a project manager, to control costs and lead times, is imperative to achieving an office refurbishment that fulfils the brief.
Office Refurbishment Solutions and Options
For an office interior refurbishment to be successful, changes and improvements to the areas discussed below are paramount. Office refurbishments can vary in scale, so you may be looking to change only one or two of these items, to establish a better working environment. Or you may be looking to make significant changes and incorporate all these items within your new scheme.
Suspended Ceilings
Many offices have suspended ceilings because they are a practical way to hide ductwork, cabling and pipework.
A suspended ceiling is made up of a grid system, which is suspended on wires, with ceiling tiles and light fittings fitted within the frame. A lighting design is recommended to ensure the correct lux level is achieved throughout the space.
Suspended ceilings make maintenance for air conditioning, power and lighting accessible and are therefore a practical addition to an office.
Lighting
The infrastructure behind a great office space needs to be well thought out and planned as part of the design process. Power, lighting, plumbing and HVAC systems are the elements of a design that make the aesthetics work.
As described in HSE's Lighting at Work report, poor lighting at work can represent a significant cost to business in the form of:
Time off work because of accidents and injuries
Increased absenteeism
Reduced staff efficiency and productivity
Getting it right is therefore paramount for the health, well-being and productivity of employees.
Having a lighting design created for your specific layout is a useful design tool, both to ensure the correct aesthetics of the refurbishment and the practicalities of having the correct lighting in the right areas. For example, you may need specific task lighting for carrying out detailed work, more relaxed lighting in a breakout area or feature lighting to make an impact in a reception area.
Decorating
Decorating your workspace is an easy way of refreshing the space, without the need for a big budget. There is a seemingly endless range of wall coverings, paint colours and wall tiles. Using Meridian's expertise in commercial office design, can help you to realise your ideas. It may be as simple as bringing in the colours from your company's brand or selecting a style and colour you like!
As part of a larger project, decoration can form an integral element of the overall aesthetics of the office interior design and with a little creativity and inspiration, you can create a 'wow' factor or point of difference, setting your business apart from the competition.
Partitioning
Partitioning needs to be considered to create a fully flexible working office, as it offers privacy, better acoustics, meeting rooms, departmental layout, and safety, while offering enough personal space for workers to feel individually valued and productive.
Meridian can provide many different types of partitioning systems for the modern office or industrial environment.
Drywall Systems
Jumbo Stud Partitions
Industrial Steel Partitioning
Fully Glazed Partitioning Systems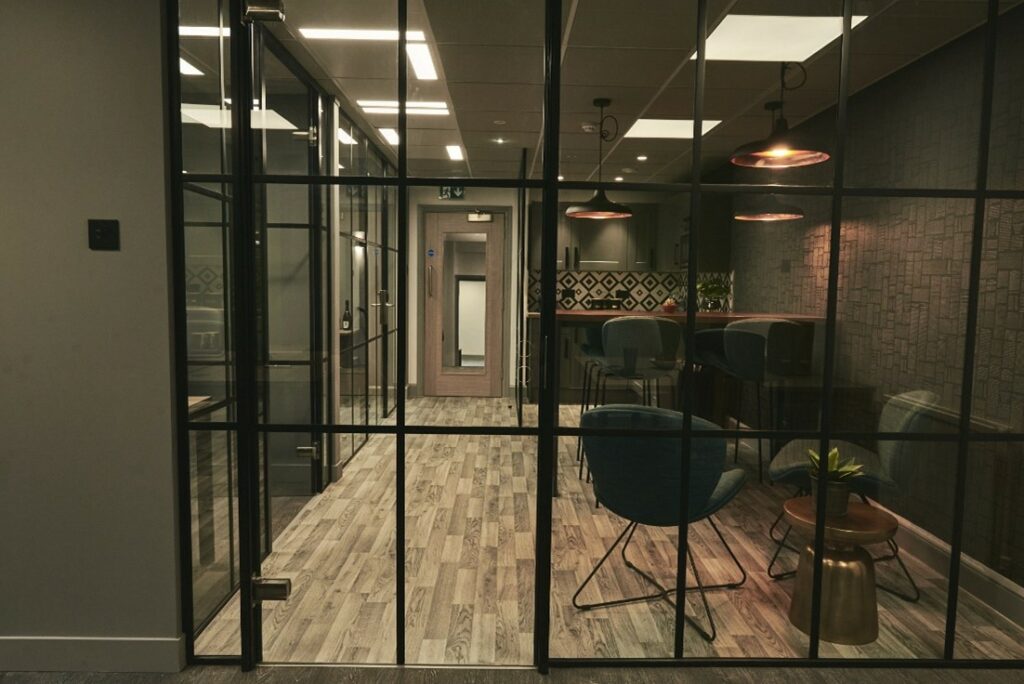 Glazing
Glazing, used in partitioning, has the added benefit of allowing light to flow throughout the office.
Natural lighting in an office is incredibly important. Employees will favour natural light for its many properties, as discussed in this article: Must-Have Office Features Employees Will Love.
We discussed how incorporating as much natural light into an area as possible and positioning workstations evenly throughout the area can be beneficial to employee's well-being. A 2018 Harvard Business Review reports a study concluding that workers in daylight office environments reported a 51% drop in the incidence of eyestrain, a 63% drop in the incidence of headaches and a 56% reduction in drowsiness.
Flooring
Flooring is so versatile and a great way of zoning a space, without the need for partitioning it physically. Different types of flooring with varying textures, patterns and colours can make a big impact to an office refurbishment.
There is suitable flooring for every budget, use and colour scheme, making it a great way to freshen up an office space, re-purpose an area or adding an injection of colour or branding.
Breakout Areas
As a focal point within a workspace, a place where employees can interact socially, have drinks, have some lunch or catch up for an informal meeting, we believe the provision of a well-designed kitchen and breakout area, is essential in any workplace.
The space available will help with the design process, along with creative input from an office fit-out specialist and the analysis of how employees would like to use the space.
Top Tip – Read our blog: Ideas for your breakout area
If you would like to discuss your next office refurbishment, Meridian Interiors are celebrating 20 years of experience this year and enjoy helping clients design and plan their office schemes.
Please contact us if you would like our guidance. You can email us on info@meridian-interiors.co.uk or ring 0333 3448 772 today.