Meridian Interiors is an office fit-out and refurbishment company with more than 20 years of experience in commercial interior refurbishment all over the country. In this article, we take a look at some of our favourite office refurbishment and fit-outs in Cambridgeshire and provide an insight into how we helped businesses transform their workplaces on time, and on budget.
"A key feature on this project at Cambridge based pharmaceutical company, Rxcelerate, was the use of switchable glass on the meeting room partitioning, which is a fantastic way to create privacy when needed and help with the transmission of light throughout an office, during other times. At Meridian, we like to come up with solutions to make our clients working environments as user friendly as possible. This glass is a great example of this."
Paul Dawson, Managing Director
This Cambridgeshire office refurbishment focused on an office design to incorporate feature flooring, breakout spaces and a glass partition to make the most of the space. The refurbishment project included feature lighting, a new tea point facility, and alterations to electrics and lighting. The office glass partitions featured both solid and glazed partitions, creating dynamic, co-working spaces offering privacy and collaboration where appropriate.
This Cambridgeshire office refurbishment and fit out focused on refurbishing an existing library and meeting area into a more usable, relaxing collaborative space. We worked closely with the client to pull together a breakout area that was welcoming and practical, so it would be actively used by employees. The project included installing new ceilings, joinery, lighting installation, lighting and flooring. With a dedicated colour scheme throughout and new office furniture, the project in its entirety took six weeks to complete.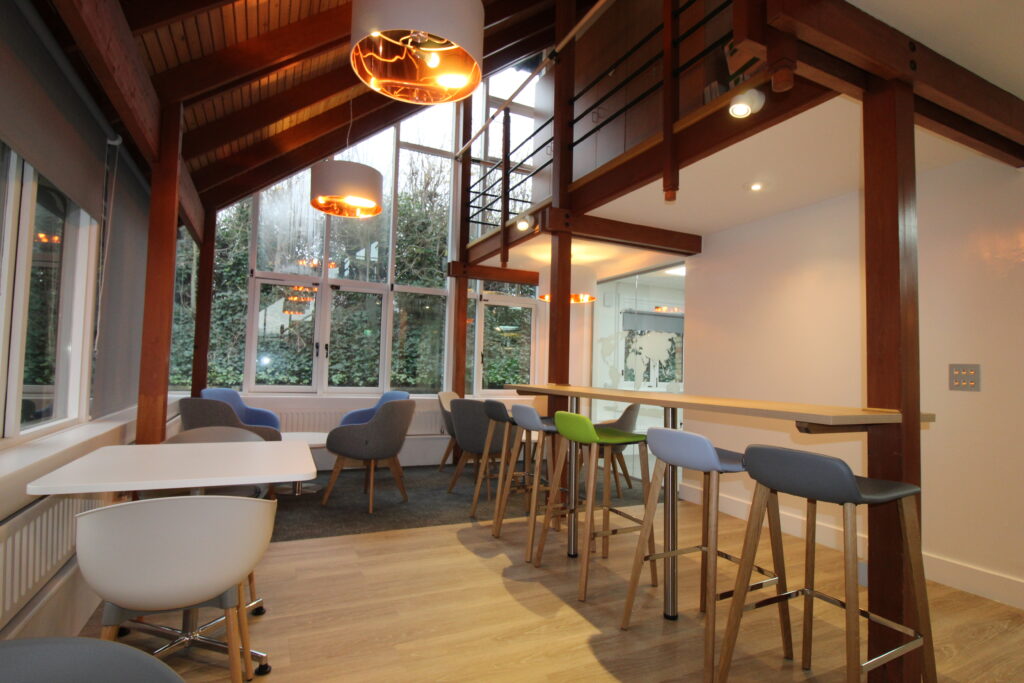 To discover more about our commercial interior refurbishment services, click here. Get inspired with our case studies, or get in touch to start your journey today.