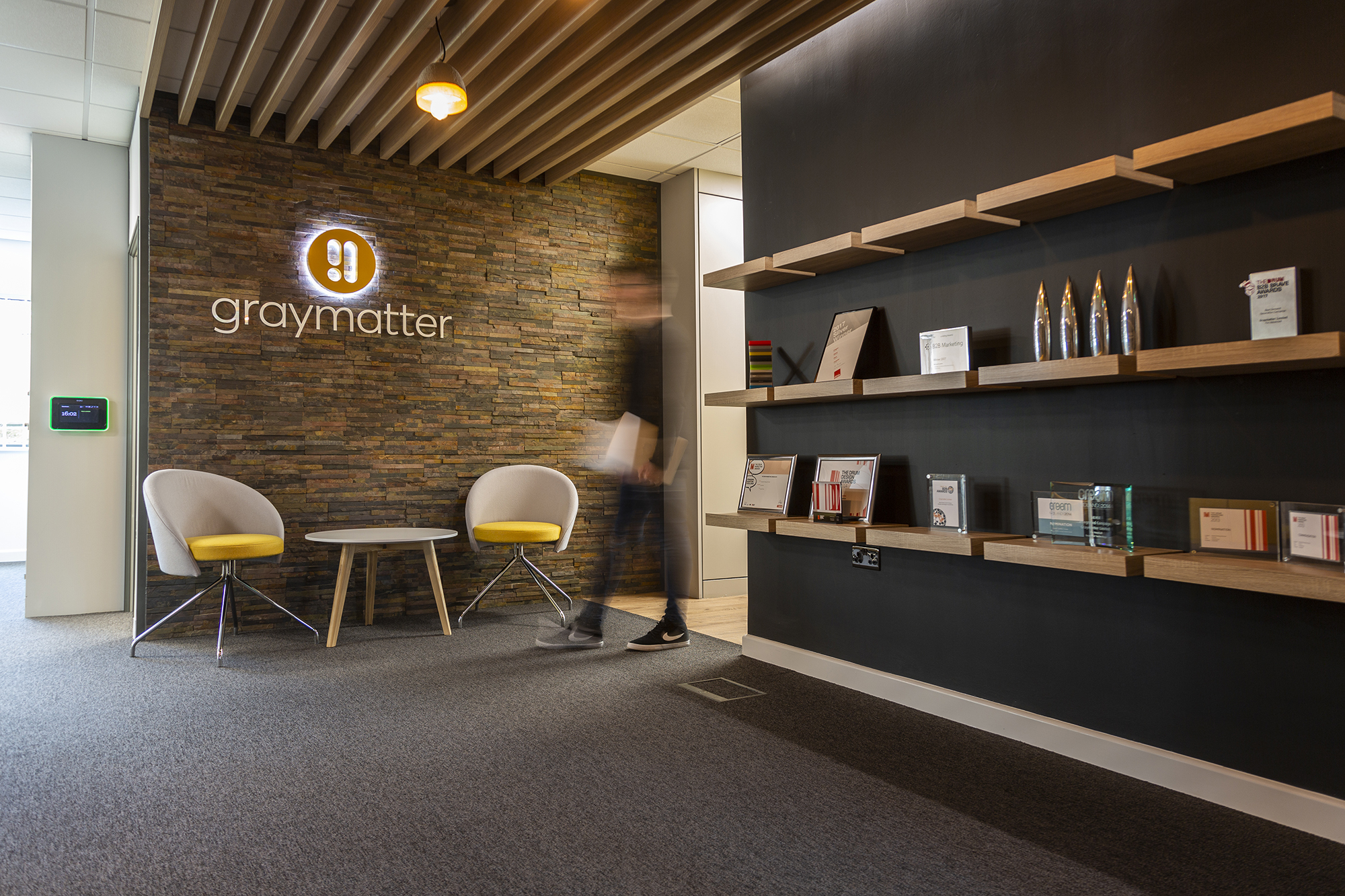 Office Refurbishment in Milton Keynes – Graymatter
To carry out a complete high-end office refurbishment, incorporating our Client's re-branding exercise. This was complimented with a new office furniture installation, which was designed to supplement furniture that Meridian had previously installed in 2012.
A phased approach on both the fit out and furniture installation were utilised in order to ensure Graymatter had business continuity throughout the project.
A complete office refurbishment and office furniture installation, to include:
• Space planning
• Upgrading meeting areas
• Partitioning and screening
• Operable/Sliding wall installation
• Bespoke Joinery
• Kitchen, Tea Point and Break-out refurbishment
• W/C refurbishments
• Decorating
• Carpet & Luxury Vinyl Tile installation
• Supplying both functional and relaxed furniture
Incorporating impressive office design, good products and skilled workmanship to create a stunning office environment for a leading digital marketing agency.
"Being a creative marketing agency, we had a pretty clear vision of what we wanted to achieve with our office refit, and our design team were able to visualise that perfectly.
Excellent design was only half the story however, and as the person responsible for managing the project, I needed to feel confident that our chosen interiors company would guide and assist us throughout the whole journey, and deliver a final result that would not only live up to our expectations – but exceed them.
This is where Meridian came in; from the very outset, they demonstrated a shared enthusiasm for our project, and provided a thoroughly excellent service throughout the entire process. Regardless of how much you think you have everything nailed down before works begin, a successful office refit will always be an evolving process, and it was Meridian's experience, expertise – and flexibility, that helped to make this project the success that it is.
I look forward to working with Meridian's excellent team again in the future, and I wouldn't hesitate in recommending them to others."
Ready to discuss your office space?
We'd love to discuss how we can help transform your office space.
Please call one of our team on 0333 3448 772 or click the button below.