Acoustics in Offices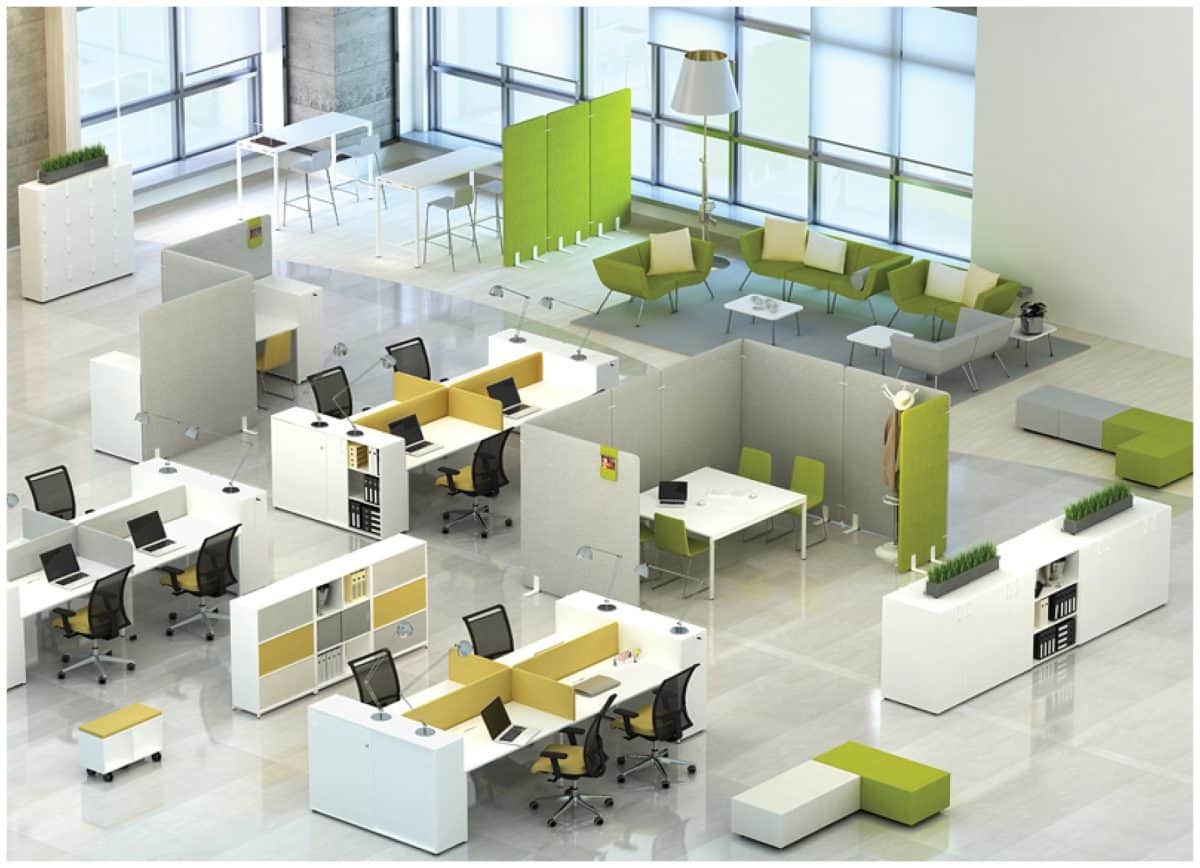 Many modern offices are designed using an open plan layout and for good reason, as this type of space is ideal for building staff relationships, collaborating on projects and making all staff approachable.
However, with the considerable size of some open plan offices, the noise within these spaces can reverberate across the workplace, creating a distracting environment to try to work in.
Using our experience in office design, we are keen to share the ways in which we believe you can reduce the noise pollution within your office.
How can Carpet Tiles help?
Have you ever been sat at your desk and been distracted by the noise pollution from a colleague putting their cup down or being drawn into a conversation that is being had on the far side of the office?
This transfer of sound can be reduced by the installation of carpet tiles with an acoustic backing. This backing material can dramatically reduce the distance that sound waves travel throughout the open plan space, making them an ideal product to use within your office to improve the working environment of staff and colleagues.
A benefit of using carpet tiles is that they are also a fantastic way of incorporating colour and design into your work space.
Our suppliers have various products with different specifications, which can be used in different areas throughout your office facility.
Protecting the Ceiling…
Many offices have suspended ceilings, which in themselves will not stop too much noise from travelling throughout offices. There are a few things you can do, depending on your budget, to reduce the noise within larger spaces with suspended ceilings.
Firstly, a cost effective solution to reducing the movement of 'room to room' sound and the reverberation of noises in the office below, is the installation of polythene encased pads above the ceiling. These pads are the same size as a ceiling tile and simply lay on top of them. This product can be installed easily and the encased product ensures no loose fibres are left above the ceiling.
A more involved option is to add acoustic panels below the suspended ceiling. Not only does this offer better acoustic performance within an office, it also offers aesthetic opportunities, as these panels are visible from the office below. These panels come in different shapes and colours; and can even have artwork printed on them. This ensures they not only fit into your office space seamlessly, but they can also add an additional layer of design into your workplace. These acoustic panels can also be used on both walls and ceilings.
Screening and its attributes
We all need desks to work from, so another effective way to enhance acoustic protection is to add screens to our desks. These screens are a good way of breaking up the open space and creating more private spaces. As with other acoustic solutions, screens come in different shapes and colours, so can be used to accentuate a particular design, for branding or used to zone areas within your office.
What is booth seating?
In addition to free-standing screens, booth seating can be used within open plan offices to break up the space, offer breakout areas and informal meeting spaces. Used to good effect, you can create a welcoming and well-designed working environment, for staff and visitors alike, while not distracting or being distracted.
Phone booths in offices….
Not all works paces have ample space for large meeting rooms, but that doesn't mean you can't enjoy areas within your open plan office where you can get aware from the noise of the office and have a private conversation.
We are seeing a rise in the popularity of 'Phone Booths' within office design, as these are relatively small pods or meeting rooms, made from acoustic material and are fully demountable and relocatable.
Our team of experts are capable of designing a system for your office, to assist in improving your working environment. They would welcome the opportunity to discuss your requirements, so please contact us today!