The Essential Guide to Planning an Office Refurbishment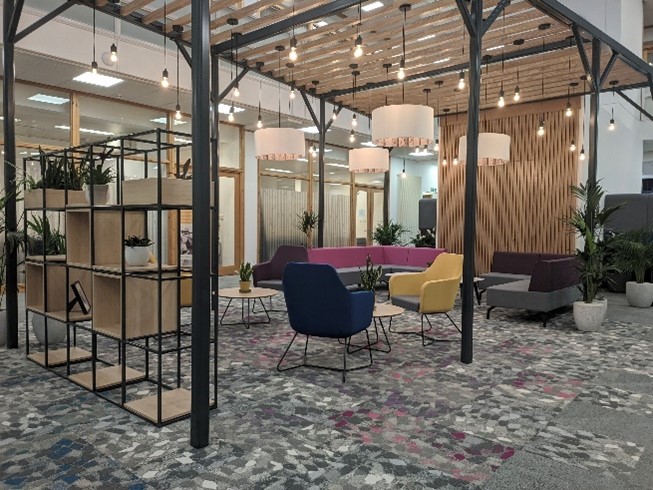 As an office fit out and refurbishment company, we wanted to put an all-encompassing article together to assist our readers with all aspects of office refurbishment, using our experience and real-life case studies.
Within this article we cover the following:
What does an office refurbishment involve?
Who carries out an office refurbishment?
Cost of an office refurbishment
What does an office refurbishment company do?
Benefits of Office Refurbishment
Examples of office refurbishment
What is the difference between an office refurbishment and an office fit out?
What Does an Office Refurbishment Involve?
Office refurbishment could be described as the renovation of a workspace. It is often a method of modernising, refreshing and revamping a space, not necessarily to change its function or layout, although this can form a part of the refurbishment. More likely, it is to be initiated by new branding, an increase or reduction in staff or updating the space to offer employees a better working environment.
Who Carries Out an Office Refurbishment?
Businesses who are focused on the well-being of their employees are either aware or keen to learn about how their office can help to produce a positive working environment (that may be why you are reading this article!). Job satisfaction and productivity are both key benefits to a well thought out office refit project, along with a positive impression to both stakeholders and visitors alike.
Once a need has been identified, contacting an office refurbishment specialist is paramount to producing a successful project.
Cost of an Office Refurbishment
An office refurb project can vary dramatically from simple redecoration to a full modernisation and therefore the attributed costs can vary significantly.
Elements that may be considered in an office refurbishment project are:
● Partitioning
● Lighting
● Flooring
● Joinery
● Data cabling/ AV cabling
● Breakout areas
● Reception areas
● Ceiling Refurbishment
● Suspended ceilings
● Mezzanine floors
● Suspended ceilings
As each project is unique, with the scope of works and size of the office influencing refurbishment costs, a detailed breakdown of all elements is essential and having a budget to work to is very useful. Working with an Office Refurbishment specialist will establish if your budget can be used for a basic, mid or high spec finish.
What Does an Office Refurbishment Company Do?
An office fit out and refurbishment company will work to listen and understand the needs of your project and create and deliver a design and subsequent fit out based on your needs.
Businesses are experts in their own field, whether they offer a product or service, however, unless your company offers interior refurbishment or office refurb, you will need to seek guidance from a specialist in these areas to assist with your refurbishment project. And we exist to make your working life comfortable.
During initial consultations, trained staff will be listening to and understanding the human side of your business, because creating your perfect office design is all about asking the right questions.
Office refurbishment companies often have a wealth of experience and innovative skills to deliver high-quality projects that are aesthetically pleasing, whilst providing practicality to suit your everyday business needs.
Case Study
Working with The Parks Trust in Buckinghamshire is an exemplary example of collaboration and the importance of using an office refurbishment company. As a charity who care for parks and green spaces in Milton Keynes, they were keen to use a lot of timber in their design for the collaborative workspace and break-out area. Utilising our expertise and talented craftsmen, we were able to create a stunning space in The Parks Trust's atrium.
Ally Phillips, Senior Property manager at The Parks Trust highlighted one of the benefits she found from using an experience office refurbishment company. "Meridian were happy to provide a chain of custody of the timber required, as this was a major part of the design".
As previously mentioned, every brief and budget are different and every client's requirements unique to their brand and workplace environment. A one size fits all approach just would not work for providing a well-thought out and executed refurbishment project, which is where working with an experience office refurbishment company matters. We create workspaces that not only look good, but also promote wellbeing in the workplace, leading to increase productivity for your business.
Benefits of Office Refurbishment
There are many benefits for carrying out an interior refurbishment in your office and some will be specific to individual businesses. Detailed below are a selection of the more common ones.
Growth and Future-proofing
As a business expands, an office refurbishment may be generated, as teams may change in dynamic and size. This would be a good opportunity to discuss the most efficient ways of working and how space planning could assist with this, as future proofing the layout at this stage is time well spent.
Updating Furniture
Technology improvements and scientific research into the ergonomic benefits of workplace furniture is ongoing. In recent years, sit-stand desks have been advocated in many working environments and much research has been written about their benefits. Sit-stand desks have become particularly popular among millennials and some even expect one as part of their package when they start a new job. A refurbishment is an ideal opportunity to take stock of existing office furniture and explore modern options, which can help staff well-being.
Introducing new technologies
As technology changes, so often does the space. From larger server cupboards, 'Zoom' rooms, to considerations around remote working and the potential change of use of offices, to meeting and collaborative hubs. Embracing these developments within your refurbishment will assist with more agile working practices.
Opportunity to change the working environment
In many modern working environments staff complain about noisy spaces, making it hard to concentrate because of background noise or overbearing office lighting, lack of natural light or good ventilation. As these elements are intrinsic to creating a healthy working environment, as detailed in our article 'How to Design a Productive Office Environment', a refurbishment project is a perfect time to consider these factors and include them into your plans.
Creating a new identity
If your current workspace has become a bit dated or run down, this can reflect negatively on your brand, as visual impression is paramount to your corporate identity. An interior refurbishment is therefore advantageous and an opportunity to affect business progression, through staff morale and productivity, following positive investment in their working environment.
Examples of office refurbishment
A nice example of a recently carried out office refurbishment involved transforming the old library, meeting room and tea point at our client's premises in Cambridgeshire, into an open plan staff collaboration and break-out space.
As explained throughout this article an office refurbishment can mean something different to each company. This project involved demolition, installation of new suspended ceilings, updates to lighting, decoration, glazing installation, bespoke joinery, a kitchen fit-out and fitting new flooring.
The result is a modernised workplace, utilising the space more effectively and providing staff with a working environment and break-out area, flooded with natural light and refreshing colour palette.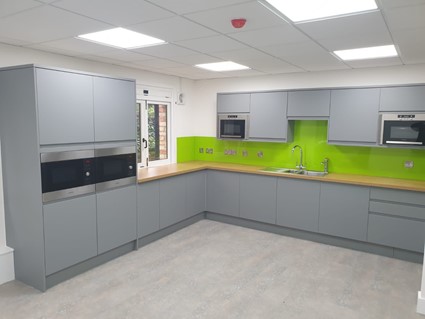 A different project saw Meridian Interiors carry out a complete high-end office refurbishment, incorporating our client's re-branding exercise, which was complemented with a new office furniture installation.
Incorporating impressive design, good products and skilled workmanship, the following elements were incorporated into the scheme; space planning, upgrading meeting areas, partitioning and screening, an operable and sliding wall installation, bespoke joinery, kitchen fit-out, tea point and break-out refurbishment, W/C refurbishments, decoration, carpet & luxury vinyl tile installation and supplying both functional and relaxed furniture.
These images show the creation of this stunning office environment.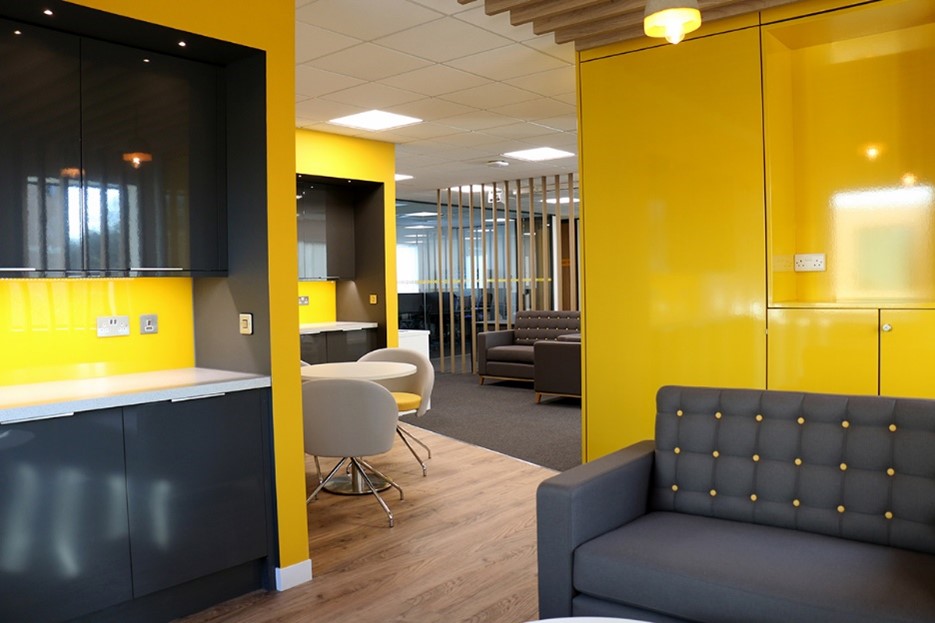 What is the difference between an office refurbishment and an office fit out?
Office refurbishment and office fit out are often used interchangeably because they are very similar.
The key difference is that an office fit out may be completed within a new building and an office refurbishment project can be considered to be undertaken in an existing building/space.
A fit out is the process of creating an interior workspace suitable for use, involving the implementation of electrical and mechanical systems, followed by internal decoration and furniture installation. There are different levels of fit out, depending on who is developing the space, the landlord or the tenant.
The term Category A (Cat A) fit out, generally involves fitting out the core of a building, to possibly include amenity areas, staircases, corridors, lobbies or reception areas.
The term Category B (Cat B) fit outs are more reflective of the works completed in the tenants or owners demise, possibly the office or workshops where the client will operate their business.
Whatever your level of office refurbishment requirement, Meridian Interiors have the knowledge and expertise to create an amazing workspace! Discover our office refurbishment services here or contact us today to find out more.