Contemporary Office Design: Love the Space You're In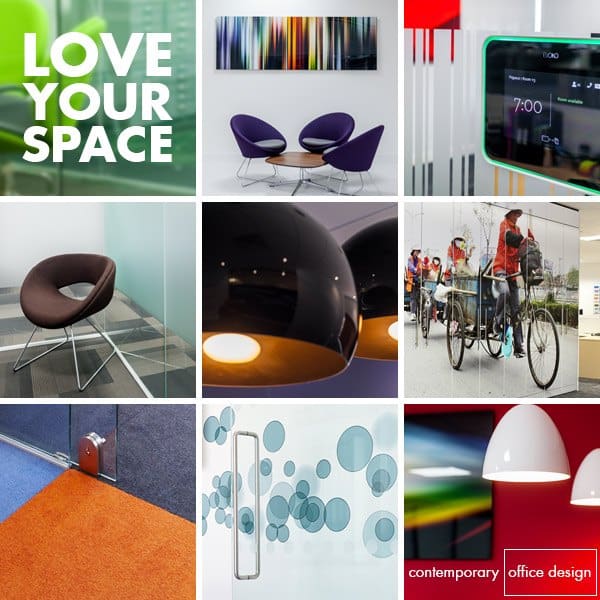 Despite the growing trend of remote working, fuelled by teleconferencing and the 'cloud', companies are still investing in office design projects to make their physical office space more enticing. And contemporary design style is very much in vogue.
At the more 'quirky' end of the spectrum, Rental Cars' new Manchester headquarters boasts an open-air cinema, rooftop 'beach', games room and drive-in diner and, at Ticketmaster's London HQ employees can take the 'slide' down to the office bar!
But the reality is that these companies have spent a large amount of money designing and developing a very unique and contemporary space that aligns with their culture.
So how do you design your office to incorporate a more modern and contemporary feel that engages your staff, without it costing a fortune?
Use lots of glass

Glass allows light to permeate and light helps to boost energy and morale. That is why glass partitioning is widely used in contemporary office design – both to separate workspace areas and create meeting rooms and managers' offices… Glass helps retain that feeling of space, openness and modernity.
And using glass does not have to mean a lack of privacy: manifestations on glass can provide much-needed privacy as well as being used to great branding effect.
Create social spaces

You might be accustomed to grabbing a takeaway coffee on the way to work, but many employers have also recognised the benefit of recreating that café culture in the office. Having an informal social hub for staff to relax and chat also brings with it more collaboration, idea-sharing and, ultimately, more motivated and engaged employees.
And a workplace café is also the ideal space to add a bit of contemporary style. By using modern office chairs in vibrant colours, glass coffee tables, or comfy sofas, you can create the perfect environment to break the workday tension.
Think about your walls

What's on your office walls? Just a bit of magnolia paint? Why not get creative with your walls and inject a more contemporary 'look and feel' to your office design at the same time?
Art inspires creativity and hanging artwork on your office walls is a quick fix way to transform a relatively sterile office environment to a more colourful and inspiring space.
Or you could turn an entire wall in your office into a whiteboard – the perfect way to build interaction in meetings or a brainstorming session.
And finally…
For that quirky touch – on a budget – here's the perfect way to add contemporary design style and grab some peace and quiet at the same time! Yes, we can source this cork helmet for you! Just ask.