Relocation, Relocation: Your Office Move Checklist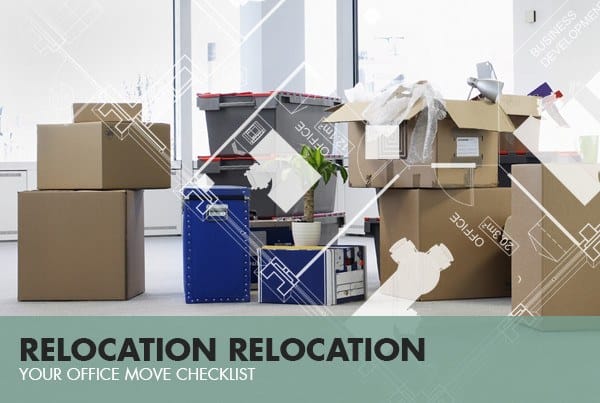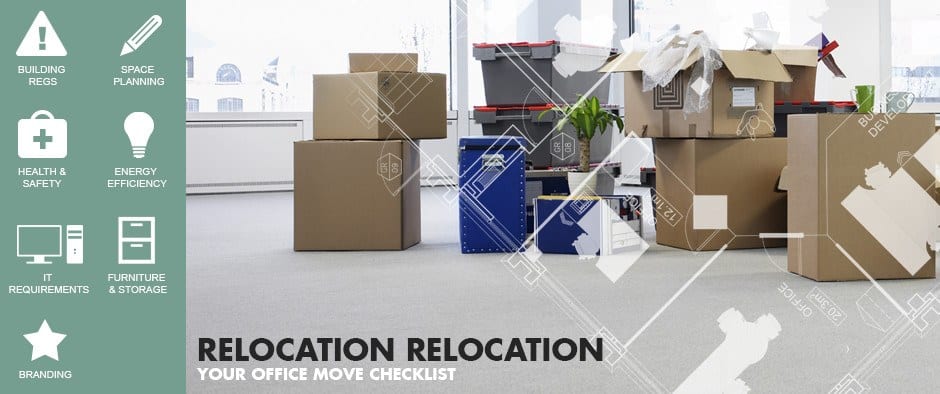 Premises secured. Lease signed. But there's no time to breathe a sigh of relief – not just yet at any rate.
Now there's just the rest of it to think about. There's the building work, the space to plan, the air conditioning and lighting to review, the IT requirements and cabling, the décor, the office furniture – not to mention how to manage 'business as usual' through the move…
So, here's our office move checklist to help get you started or just to flag a few things you may not have considered.
Health and Safety
You may not have heard of the Construction and Design Management Regulations 2015 – the updated Regulations only came into force in April 2015 – but they require commercial clients to have a significant involvement in the running of any office refurbishment project, particularly the health & safety aspects.
And that's why this is the first heading on our 'office move checklist'… You'll need to take into consideration these requirements at the very start of your project planning!
Whatever your size of project, you'll need to decide how money, time and resources are to be allocated, to ensure that all aspects of health and safety are considered. The principal designer for the project will assist you in planning the safe design of the project.
Building regs
You may not be planning significant changes to the workspace in your new building but, if you are, then building regulations, planning permission, even an asbestos R&D survey, may all be items on the list for consideration – and all will impact in terms of the timeline for your office relocation.
Space planning
And, do you have a blue print of the layout of your new building? Or – if you are opting for a complete refurbishment – do you have a space plan or 3D visuals from your refurbishment/office design company to help you explore different layout options?
Think about the size of open-plan office space you'll need. As well as the individual offices, meeting rooms, boardroom, reception and visitor space, there are the WC and kitchen facilities to consider… and you may want to allow for a more informal breakout space or office bistro/canteen area for your staff.
And plan for the future. You may not need those 5 or 10 extra desks right now, but you may need them in a year's time.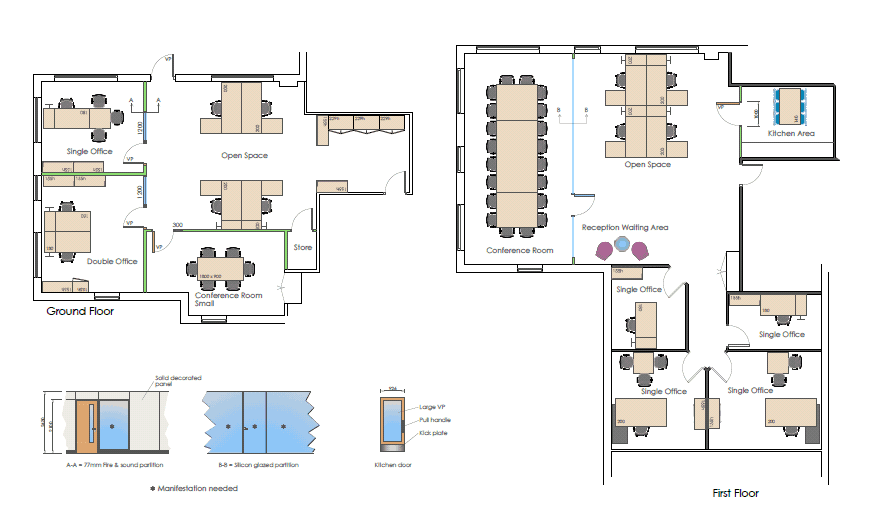 Energy efficiency

Lighting and temperature control are two central considerations in any office design/refurbishment project – as they impact both energy efficiency as well as the comfort/wellbeing of office staff. Specific temperature and humidity guidelines have to be met for all offices and will, of course, be influenced by the direction the building faces and existing/planned windows.
Air conditioning, ventilation, thermal insulation, natural light versus LED lighting requirements – should all be considered.
You could also look for advice from an ISO 14001 contractor with a proven commitment to minimising environmental impact in any office refurbishment.
IT requirements
Have you allowed for a server room, or thought about the photocopier and printer locations? Are you intending video conferencing facilities in your executive suite, or touchscreen control systems for your meeting rooms?
And, of course, there are the power requirements of individual workstations and your reception counter – all requiring cabling for phones, PCs and monitors. As well as fire alarms and power sockets in any kitchen area.
Once you have all the elements tied down, you – or your contractor – can start to think about your network cabling needs , as well as floor boxes and power sockets.
Office relocations are a significant investment whatever your size of business, and you will want to make your mark on your new environment and effectively communicate your branding and brand ethos throughout the space.
Think about how best to 'own your space'. Where can you use the company brand colours or logo? A manifestation on glass partitioning for your boardroom; company colours within your reception, visitor seating area or within wall graphics; and perhaps using your primary or secondary brand colour for office chairs or desk-mounted screens on the office desks?
Furniture and storage
Whether you are keeping your existing office furniture and storage, or buying new, you'll want to plan the layout and future expansion needs to maximise every square foot within your new office. Office furniture may be added to or replaced – but it can also be designed bespoke to meet a specific need – bespoke standing meeting tables are increasingly popular for example.
But if you are buying new, think long term and get advice on the best mix of quality versus value. And check the warranty: 'buy cheap and buy twice' is an established adage for a reason.
The office move – your final checklist
Agreeing an office move date that will mean minimal disruption – done.
Planning meeting with removal company – done.
Planning meeting with IT/telecoms providers – done.
Existing office furniture/IT equipment labelled ready for move – done.
New office furniture ordered and scheduled for delivery to new premises – done.
Office refurbishment completed and snagging signed off – done.
Crates arrived for packing – done.
Staff briefed on the move – done.
Parking options checked and briefed to staff and removal company – done.
Crates packed – done.
Office move.
Now you can breathe a sigh of relief!