Office Refurbishment: 3 Reasons it Might be Time to Take Action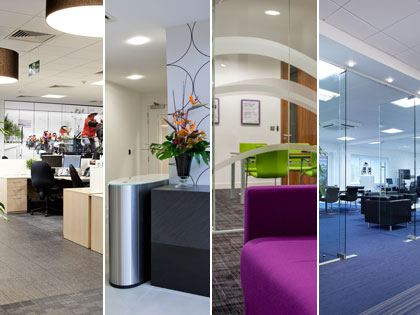 Your workspace can have a major impact on your ability to physically grow your business, on your employees' motivation, as well as your ability to attract new customers. If this is the case, it might be time to seriously consider investing in an office refurbishment.
In addition, revamping your existing space, rather than going through the upheaval of an office relocation, is usually the most practical and cost-effective route.
So let's think about WHY it might be time for an office refurbishment.

1. Efficient use of space
It may be that the space limitations of your existing office environment are starting to take their toll:
you have new staff joining but no desk space to accommodate them
you want to relocate a team but the cabling requirements are proving problematic
there's a shortage of meeting areas to get together and discuss projects, creating disruption for other staff
or you lack a 'breakout area', so there's nowhere to enjoy a lunch or coffee break.
Re-thinking the use of a space is one of the main benefits of an office refurbishment. And, if this stage is carried out effectively, your office environment will be structured to meet both the current and longer term needs of the business: enhancing communication, plus accommodating future changes in headcount and IT requirements.
2. Staff motivation
Numerous studies have shown that people are happier and more efficient if their workplace is aesthetically pleasing, brightly lit and well laid out. Today's space planning and office design process takes this into consideration: factoring in the need to:
facilitate communication between colleagues by creating collaborative workspaces
provide suitable quiet areas for greater privacy – away from interruptions and for meetings
focus on employee wellbeing and creating breakout areas for 'time out'.
This strong correlation between office design and business performance can also be tangibly measured: you may see fewer absences/lower levels of sick leave, improvements in company culture and interaction, greater productivity and improved financial health… let's not forget that staff turnover is costly!
3. Competitive advantage
Standing out from the crowd in any sector is a great way to remain 'front of mind', win new business and keep your existing customers coming back.
So, just how 'people friendly' are your offices? And do they effectively convey your corporate values?
A tired and drab reception area, outdated bathroom or kitchen facilities or broken office chairs will not communicate a positive message about your business – either to your staff or to current / prospective customers.
But if the workspace clearly communicates your brand values, provides a welcoming reception area, a well-lit, collaborative environment for staff, modern bathroom and kitchen facilities, and office furniture designed with employee comfort in mind – that will go a long way in helping to keep you one step ahead of your competition!