Office Flooring Sourced for Your Company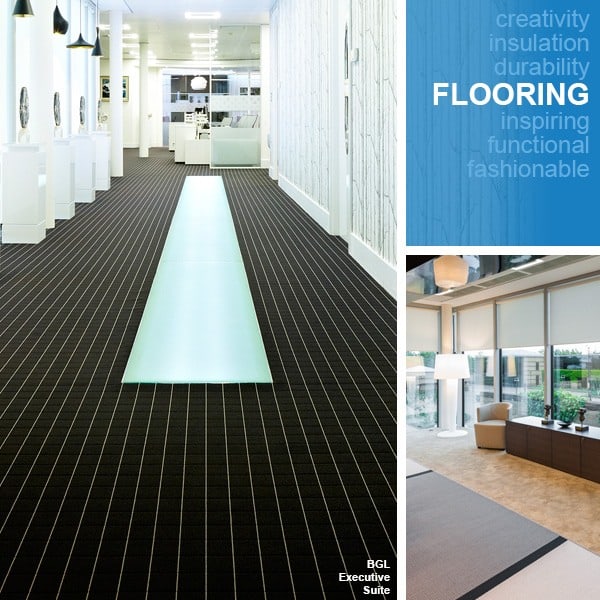 Office Flooring
Different types of flooring are best for different functions – you probably wouldn't have carpet in your kitchen, but might prefer carpet to warm up your bedroom. When you decorate your house you will most likely put a lot of thought into your choice of flooring, depending on what look or functionality you are going for. Choosing office flooring is no different, and when using office fit out companies you can ask them to source virtually any flooring you desire.
So, what office flooring is best for you?

Carpet
Having carpet in an office is often best for much the same reasons as it is in the house – warmth and noise insulation. If it is important to keep the warmth in – perhaps you have strict heating budgets – then carpet may be the ideal choice for you. If it is important you have maximum noise insulation then carpet might also be the best option for you. One thing to consider, however, is that carpets can be easy to stain and both difficult and expensive to clean so take this into consideration when using carpets. If carpet is a must, then consider using carpet tile as this allows you to easily replace parts of the carpet that are stained, without the cost of replacing a whole carpet.
Vinyl and Rubber
Having a vinyl or rubber office flooring is often best if you need a durable floor. If there is a lot of foot traffic in the office then vinyl or rubber might be the best option as they resist wear and damage. As with carpet, vinyl and rubber are sound absorbent and so are ideal in noisy office environments. Perhaps most importantly, vinyl and rubber are also much easier to clean than carpet, as spillages can be easily wiped up.
Wood
As with vinyl and rubber, wood is also a good choice if you want a floor that is easy to clean. It is also durable and resistant to damage, although there is a risk of moisture damage if it is not installed properly – not a worry if you use office fit out companies. Whilst wood is not as sound absorbent as vinyl, rubber or carpet, there is no denying that wood is the most aesthetically pleasing of the four. Wood always looks good, and it never goes out of fashion, so you might pay more now but you'll likely never need to replace it.
All in all, each floor type has its merits so it's important to decide carefully. For more information on office flooring types or office fit out companies visit meridian-interiors.co.uk.