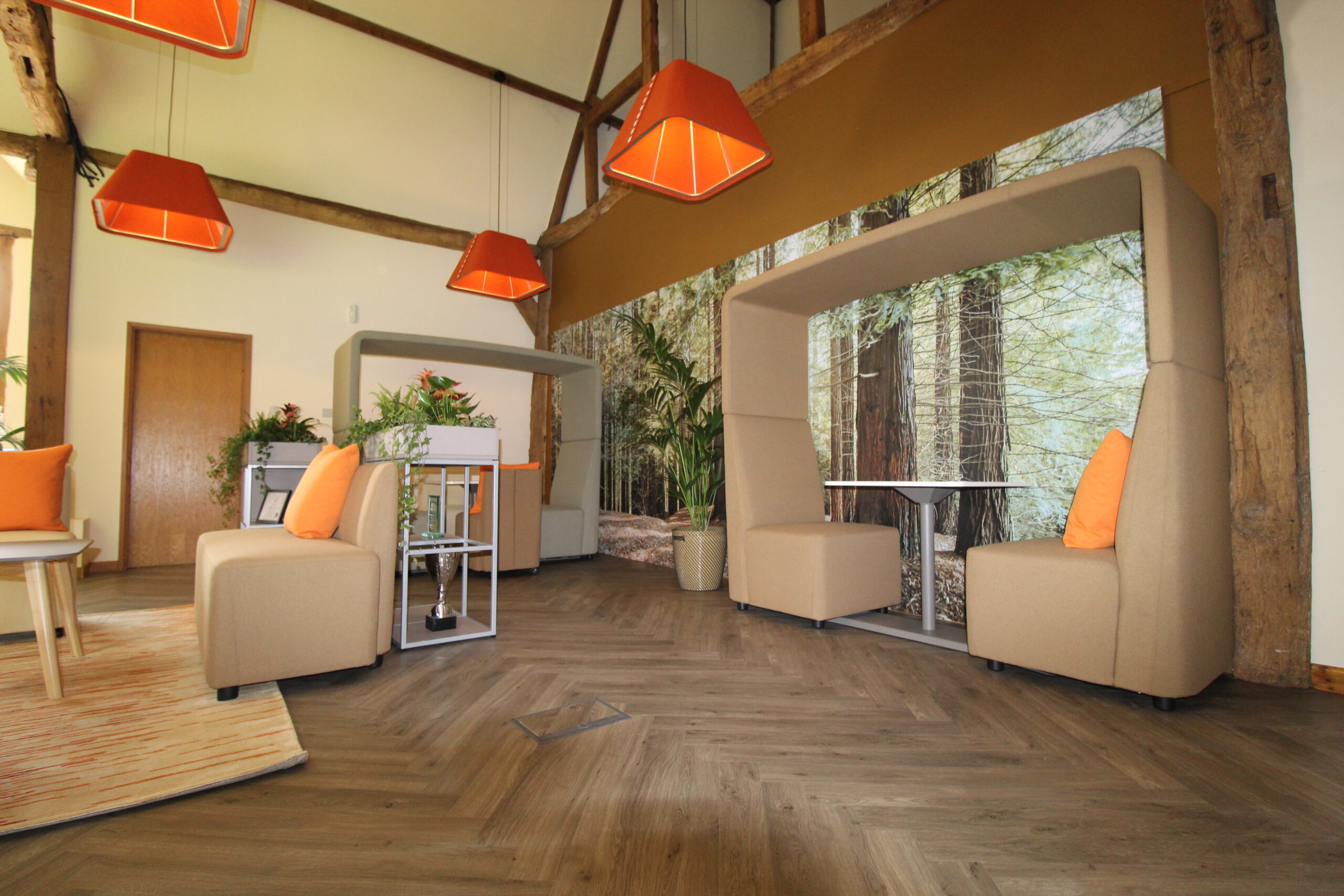 Office Refurbishment in Wantage, Oxfordshire – Purdicom
Purdicom, a major UK distributor of Wi-Fi and wireless networking solutions, were seeking to liven up their existing reception space & boardroom with an office refurbishment. The idea was to create an area that staff and visitors would feel at home in, where they could relax and take breaks. The environment was also seen as a place to hold informal meetings to stimulate constructive conversation or a place to sit quietly away from the day-to-day workings of the office.
Working with the existing colours and many features of a converted barn, spaces were created for multi-purpose use in this commercial office refurbishment. 
Soft lounge areas, along with work areas, were introduced and a more striking, smaller reception desk was located central to the entrance to give a warmer welcome to visitors. 
Colours were kept more natural to work with the surroundings with pops of orange brought in with the use of acoustic lighting, rugs and cushions. 
The client chose a woodland theme graphic for the backwall of this office refurbishment, which transformed a very open meeting room into a more private meeting space, which can be used whilst the rest of the stage area is being utilised.
A complete reception office refurbishment to include:
Acoustic treatments
Decorating
LVT Flooring
New Tea Point
Acoustic 'Buzzishade' feature lights from Muffle 
Vinyl wrap and rugs
Office Furniture was supplied by Meridian Office Furniture. Discover our office refurbishment services to find out more.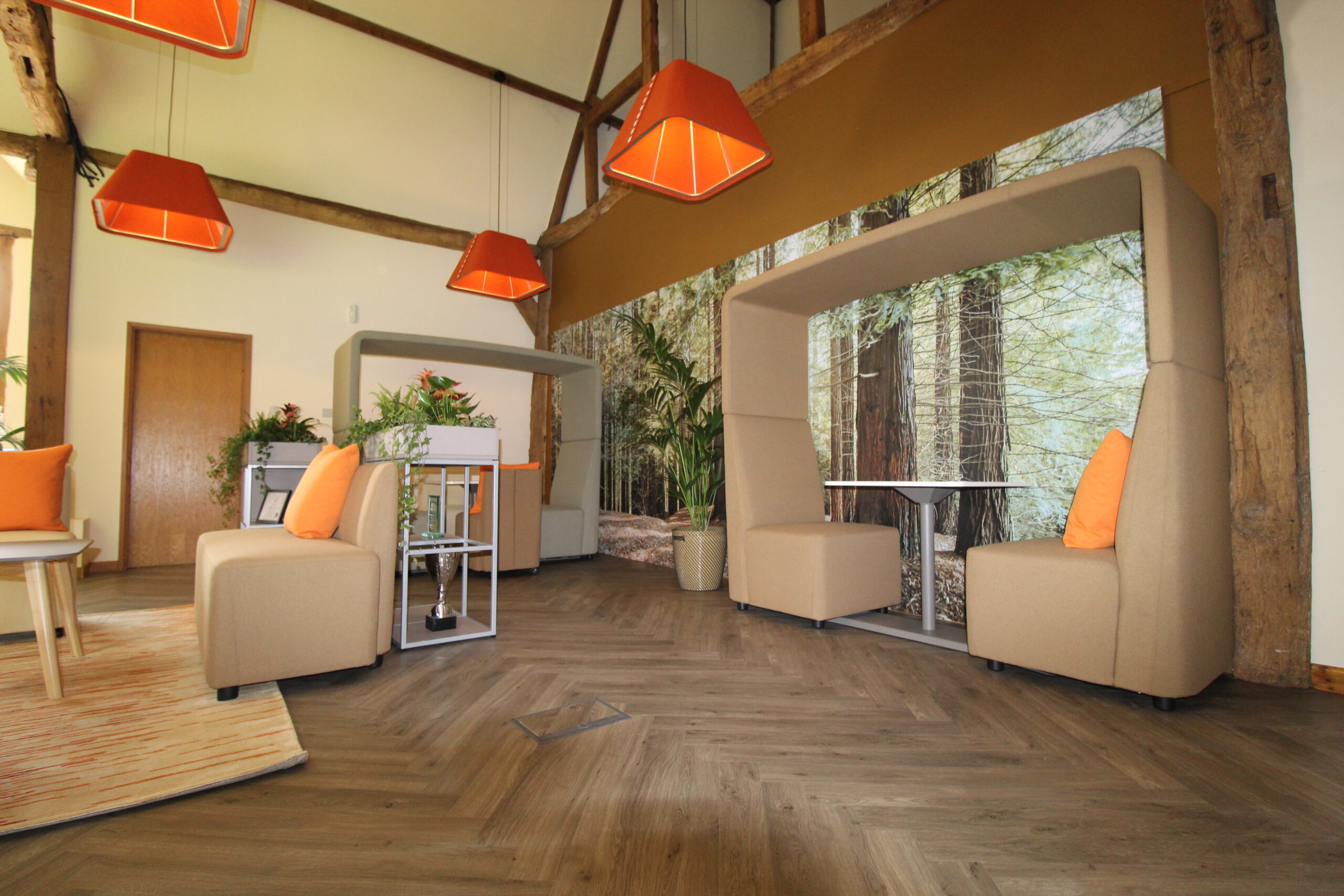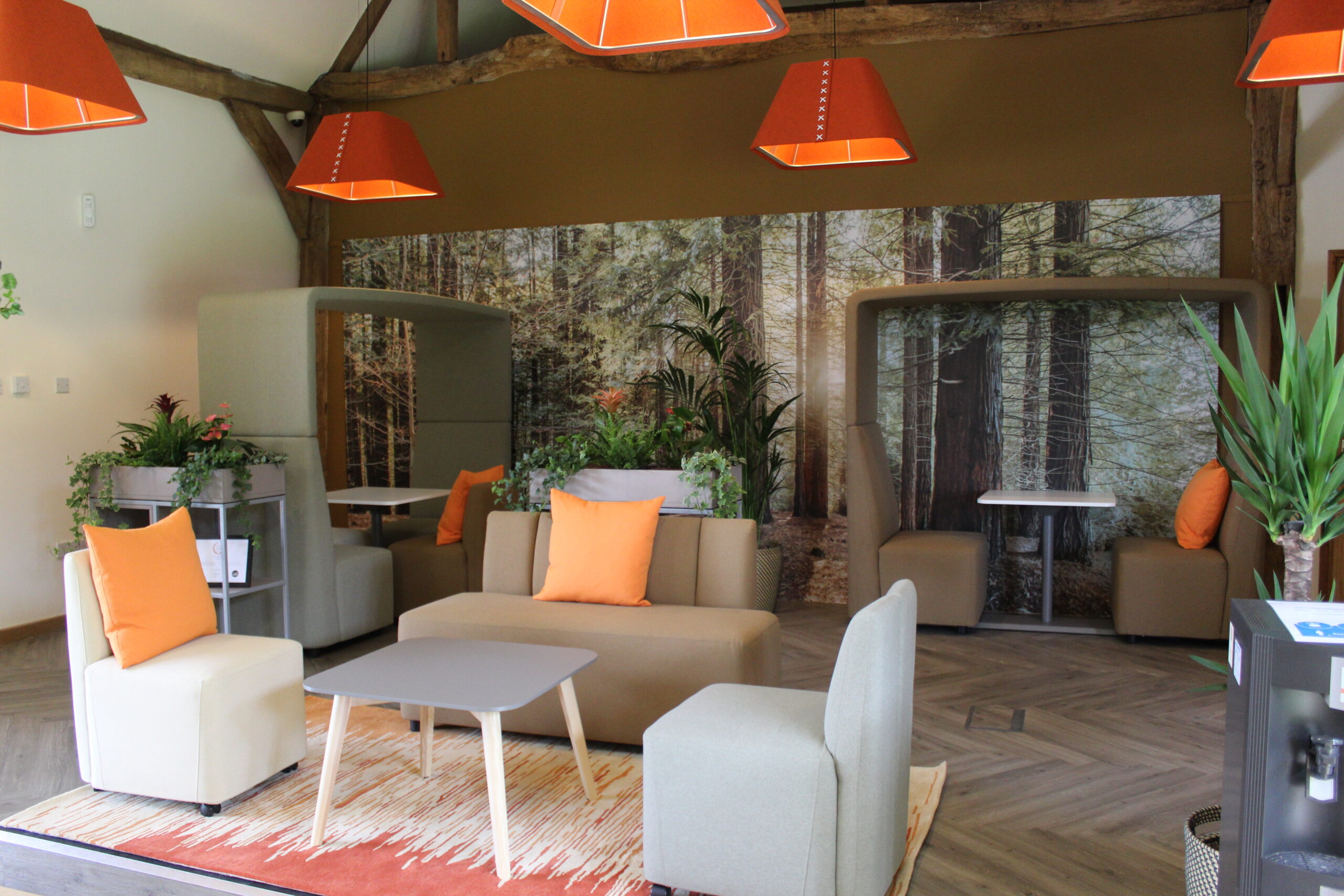 "We engaged with Meridian as we wanted to revamp our reception area to make it fun and vibrant for when people return to the office.
We contacted Meridian and put some simple ideas to them which they transformed into 2D mock-ups for us to look at, with relevant pictures and brochures of the furniture and design.
Not knowing what we could or could not do, Meridian guided us through it all and made suggestions that we encompassed in the final project, such as a feature wall, different shades of painting, rugs, and large hanging lights.
The result was amazing and was the reception area that we wanted, but our imagination did not stretch as far as their vision. 
Their team did an excellent job, and the project management was superb, with everything handled by Meridian, leaving us time to run our business.
The finished look is smart, tranquil and stylish and very much in keeping with us a company. 
I would have no hesitation in recommending Meridian, as this was a really exciting project that has been carried out professionally and has delivered far more that we could have imagined."
Ready to discuss your office space?
We'd love to discuss how we can help transform your office space.
Please call one of our team on 0333 3448 772 or click the button below.