Office Design Trends 2021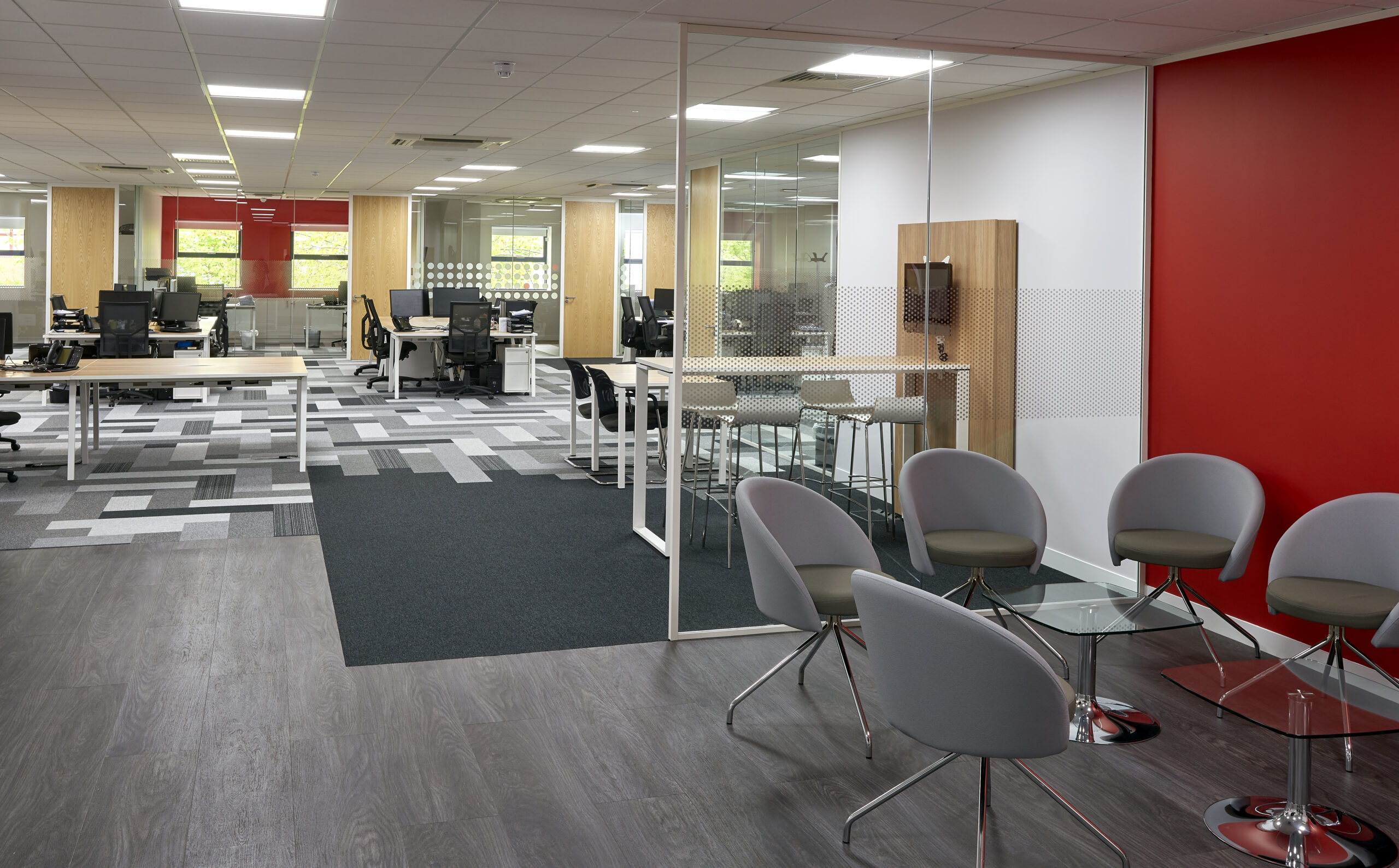 This article looks at the office design trends in 2021. According to trend forecasters, 'Resimercial' design, video conferencing provisions, workstation neighbourhoods and sustainability will all play a key role in the office of 2021 and beyond. We take a closer look at some of the office design trends for 2021 below.
This post covers:
What are the best concepts for designing an office?
What are some great features of a new office design?
What is the future of office spaces?
What are the best concepts for designing an office?
The best concepts for designing an office are concepts that consider longevity, flexibility, productivity and employee wellbeing. The workplace should be as inviting as it is stylish, and comfortable as it is practical. A comfortable office can transform the way employers see their office; a modern space that considers their needs will be appreciated by employees, and will be reflected in the quality and level of work output. Happy workers are often far more productive, will be more inclined to work hard, and will enjoy coming to the office and get more out of their workday because of it.
We are starting to see some great concepts being introduced to workplace interior design for 2021.
Check out this case study, which features small office design concepts to create an inviting chill out space for a previous client.
What are some great features of a new office design?
One of the best office design features for any modern workplace is greenery. Our working environments should not be any different from the other places we inhabit. The relationship between individuals and their environment can be crucial to how your teams feel, perform and collaborate with others. Office layout designs that inspire, energise and support the people who use them is an important first step to workplace interiors design. People's connection to nature can help organisations meet that goal.
What is the future of office spaces?
Open-plan offices and fixed bench style workstations have proven popular in recent years. Remote working and more recently working from home means office designers have the challenge of designing the offices of the future, with the very best workplace design trends.
Acoustic issues with more video conferencing, managing demarcation for social distancing, screening areas off and hygienic considerations will all play a part in the office in the future.
More flexibility and multi-functional areas to aid social distancing measures with a focus on improving the employee experience will be a key feature of tomorrow's workplace. At the start of 2021, companies were not thinking about social distancing as a workplace priority but in a short space of time, it has become central to office design.
Increased space to hot-desking areas and collaboration meeting hubs will be important to make employees feel safe, whilst still maintaining a practical and productive working environment. Of course, every office environment has its own constraints, but this is where our Workplace Consultancy plays such a crucial part in the first steps of the process.
What are the office design trends for 2021?
There are many varied ways trends can become a reality in your office. Working with your current environment to make those all-important tweaks will increase wellbeing, productivity and promote staff retention.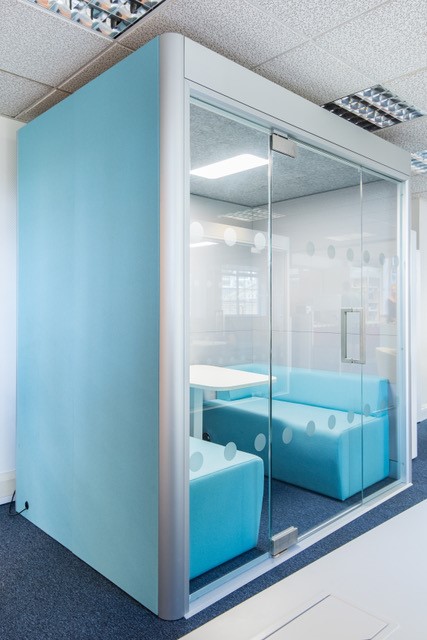 Cellular meeting rooms
Larger cellular meeting rooms can be arranged into different shapes and sizes, while making sure adequate services for connectivity solutions are provided to let users 'plug-and-play'. Varying heights and types of furniture that ensure users feels comfortable and engaged.
Collaboration spaces
The creation of collaboration spaces and break-out areas, with comfortable seating that both encourages distancing and allows for the productive use of personal devices. Creating energetic settings that encourage professional or informal connection among colleagues. It is vital that employees can find a retreat to focus and work with colleagues in an environment that puts them at ease.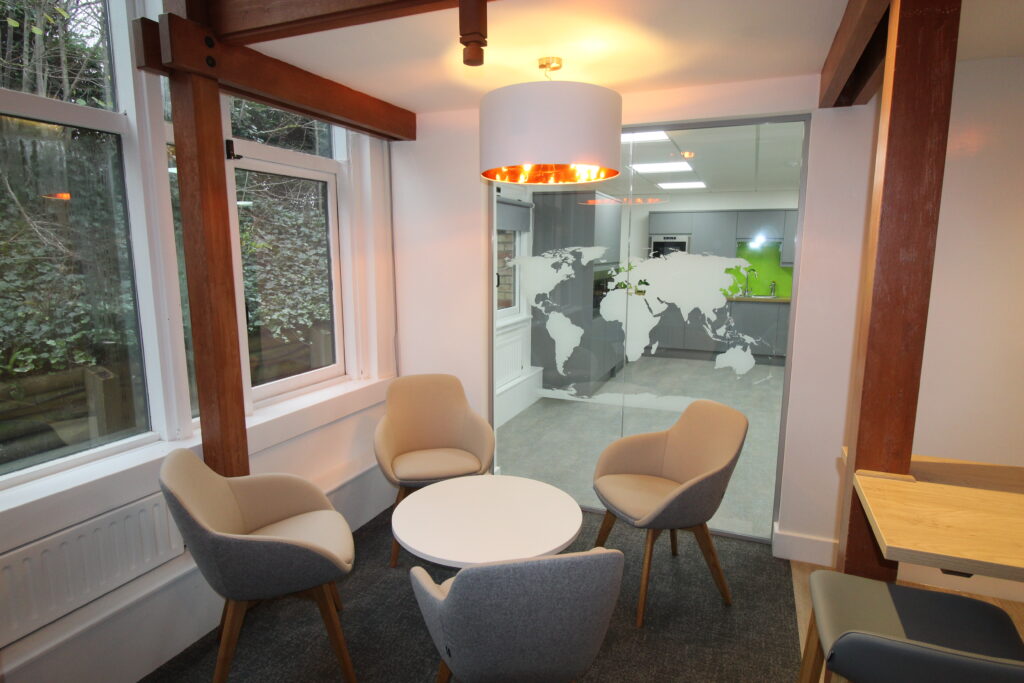 Resimercial design
Working remotely or from home has been forced upon many teams over the past 12 months, and office design is changing because of it. The term resimercial, combining residential and commercial, does exactly what it says on the tin. Resimercial design is becoming far more popular ever since people have started working from home and combines many features from the home office back to the commercial office environment.
As we begin to welcome the workforce back into the workplace, how can office interior design begin to incorporate the many features we have around us at home?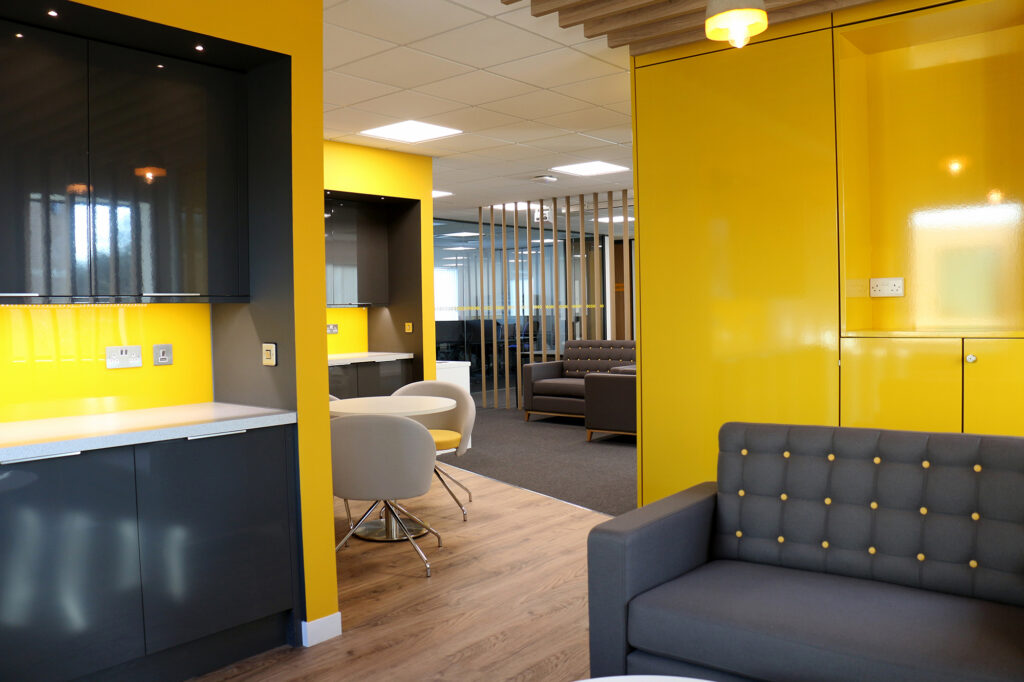 Some key concepts of resimercial design include:
Softening of tones and colours used on walls and floors.
Introduction of plants or living walls.
Comfortable seating and quiet spaces to break for lunch.
Aesthetically pleasing features.
Simple things like table lamps, faux fireplaces or even bookcases, that you may have at home can easily be incorporated into the workplace environment.
Meridian Interiors' recent project completed for The Parks Trust at Shenley Pavilions Milton Keynes demonstrates how we have achieved this perfectly!
In conclusion, our endeavours to incorporate as many of the previously mentioned office design trends to your office, we hope will provide us with many exciting challenges for the year ahead.
For more insight and advice about how we can transform your office space, explore our office design services or contact us today.